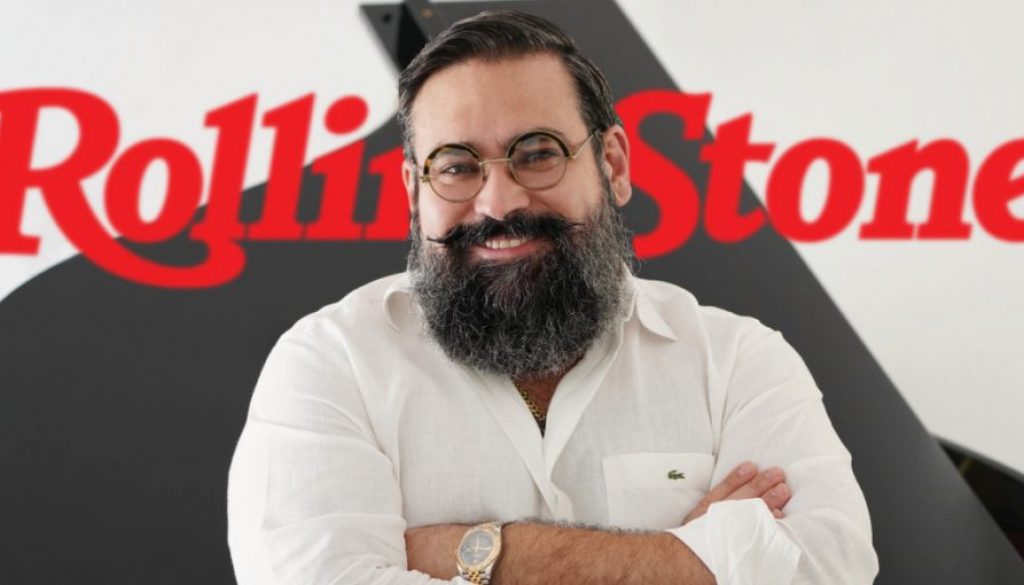 "How many solutions does the music industry need?" Paris Cabezas asks. "You'd be surprised."
At Work With Paris Cabezas, the MIT Grad Leading a Latin Music Powerhouse
"The attention span of audiences is very, very small today," says the mathematician-turned-exec, who has helped develop key artists and producers in the Latin music market"
Few people have a résumé as eclectic as Paris Cabezas. He grew up in rural Cuba, where his mother urged him to take up the piano "to get out of the farm." He later picked up a master's degree in Applied Mathematics from M.I.T., parlayed that into a job working for Yamaha on the first generation of digital mixing consoles, and helped Lil Wayne improve his royalty collection practices, before joining InnerCat Music Group as a managing partner. As a result of all this experience, Cabezas is as comfortable in all-nighter studio sessions as he is in the development of mathematical models of consumer behavior.
InnerCat is an independent company that handles distribution, publishing, digital marketing, and more for a wide variety of artists. Its list of clients includes some of the biggest names in Latin music, from the super-producer Tainy to the versatile reggaetonero Farruko to the dembow star El Alfa to the salsa veteran Gilberto Santo Rosa. Cabezas spoke with Rolling Stone about competing against — and collaborating with — major labels, the importance of developing new tools for music marketing, and hating spreadsheets.
What's a typical day like for you?
My system fires up after midnight. To run the company I have to sign contracts, look at budgets and balance sheets. But I actually despise that. If it wasn't for the great team I have around me, the company would be a disaster. Spreadsheets make me feel stuck. So I wake up late, because I go to bed at 5 or 5:30 in the morning. Our studios have become the go-to place for urban acts that want to enrich their production. If I'm not spending time in the studio, I'm approving mixes, arranging something.
I wake up late — 10:30, 11? I come to the office around noon. I don't have a corner office. I refuse to have one. I sit here in the server room. My assistant probably has a bunch of emails, calendar stuff, people wanting appointments. So I'll spend three hours going through calendars, admin stuff, approving campaigns and budgets. That's every day. We have a large catalog and a large number of digital channels that we manage. There is always a copyright dispute. The afternoon starts getting interesting. Usually there are phone calls — a deal closing, or untangling technical issues.
What's the key to working as an independent company in a major-label world?
We don't have any financial investors, any seed money. It's just us. The only edge we have to compete in an incredibly crowded ecosystem mostly funded by Wall Street is by executing a good plan faster than the rest, paying attention to what's needed in the marketplace and designing great solutions.
How many solutions does the music industry need? You'd be surprised. The audience hasn't gotten that much bigger. But the amount of music certainly did. You only have one shot to get through. And you have a short time span. If the next New Music Friday comes around, you're done.
So we get creative. We have a large graphics department that I spend a lot of time with. Every time there's a new release from an artist we handle, there's a whole meeting before anything goes live. Who are we targeting? We can't throw everything against the wall and see what sticks. Sometimes the artist doesn't even understand his own audience. So we need to educate them. Everybody wants traffic and permanence, that particular user to remain there and remain engaged with what you have to offer. Banners alone for marketing are not cutting that.
What are some of the ways you market artists creatively?
Marketing tools were not actually designed for music. They were designed for purchasing tangible goods online. In the music industry, conversion relies on gaining new traffic and the longest possible engagement with what we have to offer. Not even the guys doing SmartLinks got it right. You have a SmartLink and you share it. You have 26 buttons to choose from. Why? I don't pay 26 subscriptions. So why would you show a Pandora and Tidal button to a guy in Mexico? There are no Pandora and Tidal in Mexico. We designed a tool that's similar but it's dynamic. It reads geolocation, and we can read if the user has a subscription and then only show that button.
The attention span of audiences, even super duper core fans, is very, very small today. A three minute song, usually a super fan, only 40% will stay there until the end of the song. We have software that models who has the intention of dropping off earlier to show them a banner ad before they drop off. That was my day for the last two months, mathematically modeling that.
"We can't compete with money muscle. The numbers are absurd. I remember, 15 years ago, getting a $50,000 advance took an act of God. Now you see the multinationals throwing out $5 million, $10 million. Did I miss money growing on trees?"
As U.S. major labels have become increasingly interested in Latin music, they've also been offering huge deals to reggaeton acts. Does that threaten your business?
We can't compete with money muscle. The numbers are absurd. I remember, 15 years ago, getting a $50,000 advance took an act of God. Now you see the multinationals throwing out $5 million, $10 million. Did I miss money growing on trees?
I developed a concept. Multinational record labels need a way to release steam. The last thing they want is angry artists and managers badmouthing them, showing up in the office, "why can I not release this stuff?" Record labels are composed of big moving parts. Decisions take time, business affairs departments are overwhelmed, drafting exclusive agreements takes months. On the other side, the pace of the consumer in the music space moves incredibly fast. The speed is just amazing.
Multinationals cannot aggregate the content with all the requirements needed that fast. So I can't compete, but I can partner on some products. There is an incredible amount of pressure, on urban artists for example, from their indie peers in the industry. Release release release. If they feel that they are not releasing fast enough, they're going to lose presence in the street. They need to remain relevant. So the majors need a partner that has the technical capabilities to release with the same standards as they do. I do those releases, cut them a piece of the revenue, make some, and keep the artists happy. It's a marriage made in heaven.
Can you give an example of how that works?
Everything is a hybrid. Last week we had an urgent release and Universal couldn't do it fast enough. So I did it through my system, and next month we'll switch ownership. But in the meantime, let me do it, because promo is about to go out and we need to have an asset live and we don't want to change the release date.
It's easy for me to act as a label back office on releases they don't have enough hands to babysit everything. I got called to Sony last month. The chairman has a personal project. He said, "We need to run a financial analysis to determine how much of the legacy catalog is getting attention so we can do compilations or do some marketing to stimulate those songs that still have some attention." These special projects, we do all the time. They're very technical.
You do production, distribution, marketing, publishing — do you ever wish you could just focus on one of those?
The day I don't have to do them all, I'll go bankrupt, because I'll lose interest in the business. I need that particular challenge. We take the stuff that no one else wants to take. We change the business model whether it's collecting neighboring rights income or making a non-monetizing YouTube channel monetize. No one wants to deal with that stuff. It's tedious. It's what makes us good at what we do.
What's the biggest danger facing the music industry?
The lack of curation. That's a lost art. What we used to do, when we got a record, go straight to the liner notes and read them, that's lost. Nobody cares what drummer someone used to make the drums sound great. I fear that we're losing a piece of our soul because we are too fast. We're living so fast that sometimes we miss out on great art. We don't have time to pump the breaks and appreciate something beautiful.